You have the best collection of Jewellery in the world!!
But, Nobody knows it!
It's the same as having no jewellery!
You will have to showcase it in front of as many people as possible to find the right buyer.
Marketing is critical for any business and Jewellery business is no exception.
Digital marketing will help your Jewellery brand become a house old name.
Going online opens up a wide opportunity for your business, both locally and globally and social media platforms can be utilised to build trust.
Jewellery sale being a high ticket product the sale is mainly dependent on the TRUST.
Having the best designs but no trust leads to no business!

As you put in a lot of time and effort to grow your business traditionally, the same applies to digital platforms as well.
Now, let's see how various digital platforms can be used to build trust and get sales for your Jewellery store.
Digital platforms to utilise for Jewellery marketing
Let's see how various digital platforms can be used to build trust and get sales for your Jewellery store.
Website will be your online store, all the various marketing activities will be focused on getting potential customers to the website.
Website will be the best salesman you ever dreamt off!
It will work for you 24/7 and will always speak for your brand, communicate with your customers and get you sales.
How good the salesperson works depends on how well he has been trained.
In the same way, your website has to be designed keeping every single aspect in mind which will delight your customers and turn them into raving fans.
Let's see some of the important factors which makes a website great!
The user experience should be the prime focus when getting your website done.
Flawless user experience will make the user spend more time on your website and thereby view more products and end up buying.
This will also make the customer visit your website again and again and thereby become a loyal customer.
You can have multiple pages on your website and link them using the top navigation bar.
Each category of your products will have a separate page, which will help customers visit particular pages of their interest.
Page speed is one of the important factors to be considered.
For every one second of site speed improvement Walmart experienced up to a 2% increase in conversions.
Google has indicated site speed (and as a result, page speed) is one of the signals used by its algorithm to rank pages
Already have a website? Check your website page speed and issues using Google Page Speed Insight or Experte Pagespeed tool
b. High-quality images and videos
An image speaks a thousand words
Having high-quality images for your website is mandatory.
No compromise here!
Your website revolves around product images and videos.
Get a professional photo shoot done or get CAD images which will help customers to get the feel of the Jewellery.
Getting 360° videos done for premium Jewellery is a plus.
The same image will be used for social media marketing too.
Check this post to see how a normal photo can be turned into an attractive social media post (showcasing marketingbeku designer skills😉)
Having a website, the benefits are endless.
You can create multiple landing pages.
Landing pages are pages designed to showcase particular offers to customers for a certain period of time.
Say for Diwali you can have a separate landing page as "Diwali sale" which will have offers on Jewelerys which are bought during Diwali festival.
This will enhance user experience and help in increasing sales.
Website visitors when they are looking to buy a product they will have many unanswered questions. 
If you can answer the questions at the right point of time it will be easy to make a sale.
Adding a chatbot or even linking your WhatsApp number to the chat will make a phenomenal difference.
Two things that the chat option will help:
You can easily clear all the queries of the customer.
You get their contact details, which can be used to follow up and also send them custom messages when you have an offer.
Once we have the foundation i.e the website ready. Now we can move to the most crucial part – Marketing 
Don't do the number one mistake that every Jeweler does –  "Just setting up the website and not driving traffic to it"
This is the reason why most of the Jewellery businesses fail online!
Let's see how various channels of digital marketing can be used for Jewelry business.
a. Social Media Marketing for Jewelry Business
Social media marketing plays a critical role in the growth of your Jewellery business.
Social media statistics from 2019 show that there are 3.5 billion social media users worldwide, and this number is only growing. That equates to about 45% of the current population (Emarsys, 2019).
Among 100s of social media platforms, the best ones for Jewelry store marketing are Facebook, Instagram and Pinterest.
b. Steps to be followed for Social Media Marketing
Let's take this beautiful creative as example 
Step 1: Planning a content calendar
The content calendar will help plan and organize for the whole month.
A content calendar will have:
The day on which the posts will go up

Important days, events and offers which has to be promoted

Budget allocation for each post
Once the content calendar is finalised, the creative team starts their work.
Step 2: Creating creatives for social media platforms
The creatives must be so awesome that the user must stop scrolling their feed and have a look at the image!
You may have heard the saying "Content is the king"
The quality of the content/creative is what attracts followers to your page and thereby become customers.
Never click a jewellery image from your mobile and just upload it to social media platforms.
This makes your Jewellery look cheap and people don't value it.
We can help you create the personally designed creatives, you just need to send us the image! 
Now thinking of how the creative has to be designed?
Here are some sample of the creatives MarketingBeku team has created for clients.
Note: Different platforms have different guidelines for dimensions so make sure the creatives are made accordingly.
Step 3: Copy for the creative
Copy is the text which is written above the creative, which provides more details on what the creative/image is all about.
The copy must be written professionally without any grammatical errors.
The copy must speak to the emotions of the customer and make them want to buy the jewelry!
Copy should always include Call To Action (CTA)at the end like – Book now or Contact us
Step 4: #Hashtag Research
Extensive #research has to be followed to make sure that the post reaches the targeted audience and thereby helps in the growth of your social media page.
Hashtags vary from post to post depending on the product which is displayed. For example, a gold bangle will have a different set of hashtags compared to diamond necklace.
The branded hashtags must be used on each post.
Step 4: Posting on social media platforms
Once we are ready with the creative and the copy we are now ready to post on various social media platforms.
You should always know the best time to post the creatives on social media.
Posting when your page followers are active help in reaching your post to maximum number of people.
Step 5: Advertisement
Many jewellery owners stop at step 4 and they miss the most important step of all of them.
ADVERTISING!!
Many business owners never think of advertising!
The most common saying is "the customer will automatically come because we are the best"
AND THIS IS NOT TRUE AT ALL!!

When you create a brand new page you will hardly have any followers!
The only followers you have in the beginning will be your friends and family.
If the post has to reach the maximum number of people you need to spend on advertising.
Many people think that advertising means you just have to spend money without any plans.
That's completely the wrong perspective.
Always run as with the end goal in mind.
Having a planned distribution of the budget will reap you maximum benefits.
The budget allocation can be made depending on the type of post.
If it's an offer post you will need to allocate more budget because more the number of people it reaches more people will be attracted to the offer and later lead to a sale.
Have a look at the huge engagement received for the posts below:
c. Google Ads For Jewelry Marketing
Here are some of the facts which will help us understand how huge is Google:
73% of the paid search market share belongs to Google (Source)
65% of small-to-midsized businesses have a PPC campaign (Source)
46% of clicks go to the top three paid ads in search results (Source)
Google Ads provides multiple campaign types, but the ones that benefit the Jewellery Industry are
1. Google Search Ads / Search Engine Marketing
2. Google Display Ads
d. Google Search Ads / Search Engine Marketing
Search engine Ads helps to make your brand visible to users who are readily searching for jewelry.
The major advantage is that "You are just one click away from the potential buyer"
Ads can be run targeting specific keywords such as "Buy Gold Coin", "Buy Gold Jewellery" "Buy Choker Necklace", "Buy Temple Jewellery" etc. 
Google Search Ads will provide a stream of potential buyers to your website.
e. Google Display Ads / Display Marketing
Display marketing helps in Brand Awareness, Brand Recall and Remarketing.
With the help of Google Display Ads, we can target potential websites where your users are likely to hang out and read content related to Jewellery Industry.
Below is an example how Caratlane runs display Ads on various websites.
The potential buyer can click on the jewellery and visit the product page, this  helps in increasing sales.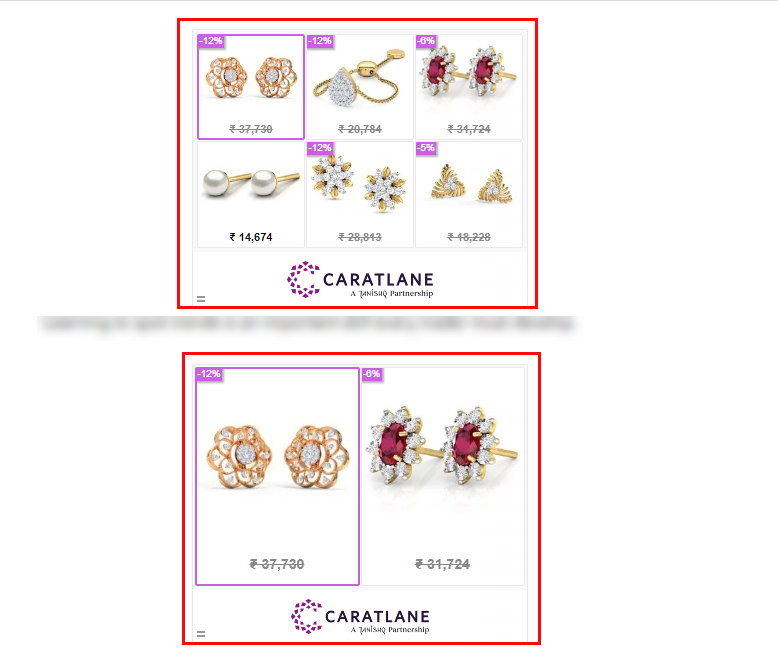 The days of neglecting Digital Marketing and focusing only on Traditional Marketing is long gone. As days pass people are moving towards digital medium and its time to take your Business ONLINE!
Looking for a Partner To Set Up An Online Jewelry Store?